People Involved:
Gregory Hager
Kel Guerin
Haluk Tokgozoglu
Vineeta Khatuja
Sayeed Choudhury
Mark Patton
Funding Sources:
Johns Hopkins University Milton S. Eisenhower Library
Description:
The Balaur Display Wall is a collaborative project between the Johns Hopkins School of Computer Science and the Johns Hopkins Milton S. Eisenhower Library. It is a high resolution, 25 megapixel display system intended for research in multi-user gestural interaction with extremely large imagery and datasets. We are also interested in collaborative art and educational applications.The Balaur Wall is currently installed on the campus of Johns Hopkins University in the new Brody Learning Commons building.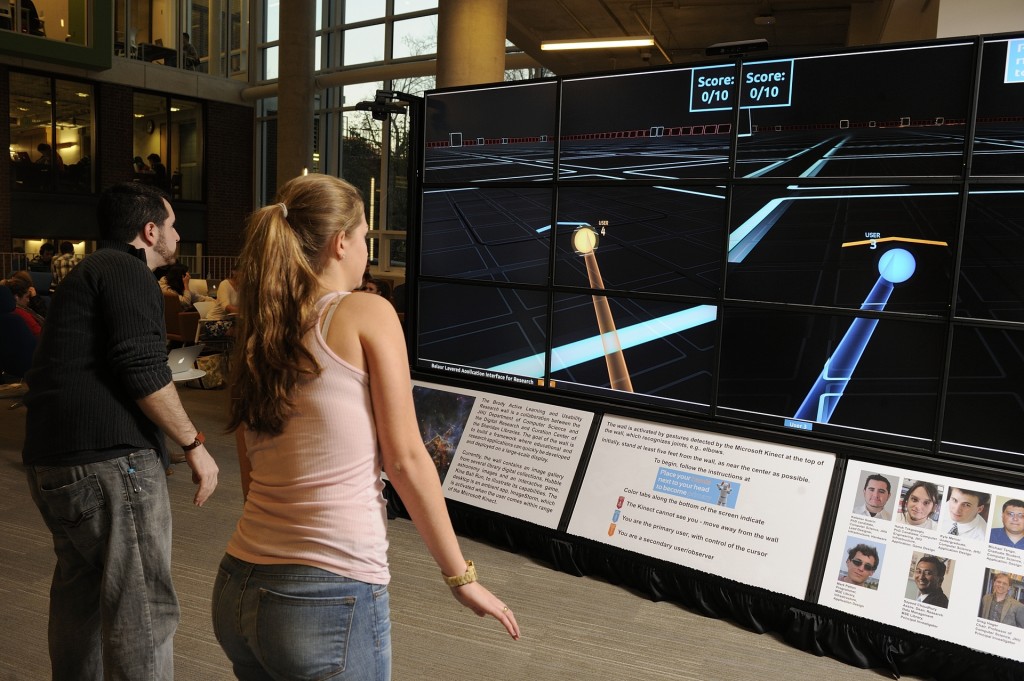 The hardware configuration of the Balaur Display Wall differs from traditional display walls in that the screens are driven from a single machine, rather than several networked computers. The heart of the Balaur is a 6U server chassis which supports Dual 6-core Intel Xeon processors, 16GB of memory (expandable to 196Gb) and 6 nVidia FX4800 graphics cards. This means we can leverage a significant amount of computing both on the CPU or GPU in a tight package. An additional 2U SAS RAID array (expandable up to 30TB in a RAID 6 configuration) provides fast, local storage for huge datasets.This configuration also means that we do not have to worry about passing video signals across a network. Our system runs a simple Xinerama session on Ubuntu 10.10, with nVidia beta drivers. The wall contains more than 1000 GPU computing cores, which makes it a formidable system for parallel computation as well as visualization.